Breakfast Blueberry Bar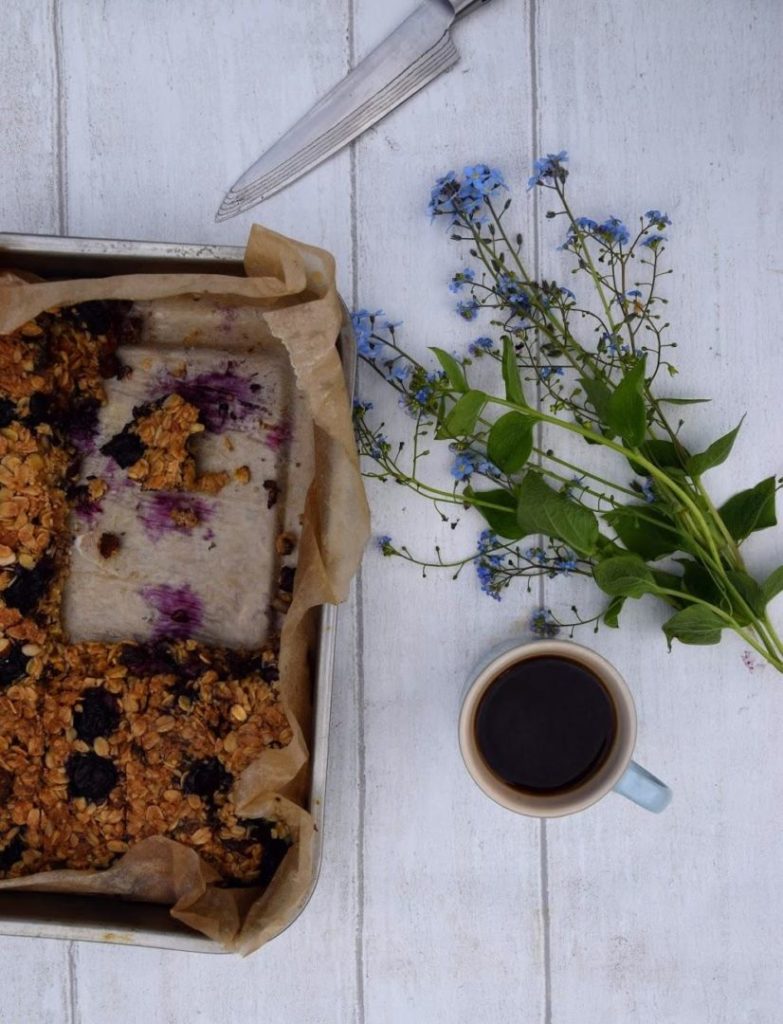 This lovely flapjack is a real treat for breakfast, elevenses, or afternoon tea. Very simple to make and great to do with kids.
Serves 5
125g unsalted butter
5 tbsp honey
100g brown sugar
200g Pimhill jumbo oats
30g Pimhill pinhead oats
120g mixed seeds, nuts, dried fruit (this is a good way to use up ends of packets, for example: pumpkin seeds, linseed, sunflower seeds, dried figs, dried apricots, dried dates)
60g desiccated coconut
100g fresh blueberries
Small pinch of salt
Preheat the oven to 160°C.
Mix the sugar, oats, mixed nuts/seeds/dried fruit, salt and coconut in a mixing bowl.
Gently melt the butter in a saucepan. Add the honey to the pan and pour bit by bit into the mixing bowl with the other ingredients, mixing gently together. Once it is well combined, add the blueberries gently to the mixture, trying not to mash them up too much.
Line a 20cm baking tray with greaseproof paper and add your mixture and bake for 30 minutes. Remove from the oven and score desired portions whilst it is hot. Leave it to cool in the tray. Once cooled, cut the scored bars and enjoy. They will keep in an airtight container for a week or two.